Sunshine Coast Fishing
GUIDE TO SUNSHINE COAST CATCH VARIETIES
CALL US TODAY TO BOOK YOUR FISHING CHARTER – 0499 044 458
FISHING OFF THE SUNSHINE COAST QLD
Fishing up to 6 nautical miles offshore off Qld's Sunshine Coast yields a variety of fish species. Changing sea conditions and seasons means every trip will include some pleasant surprises.
When fishing, it is helpful to have an identification chart* to check what species you have caught and the legal bag and size limit requirements. During our deep sea fishing charters we can help you with this information.
WHAT WILL YOU CATCH ON YOUR TRIP?
SNAPPER
Snapper is one of the most popular fish species on our fishing charter trips. Adults can be found in deeper waters, whilst the juveniles prefer sheltered bays and estuaries.
Snapper grow to a maximum length of 1.3m. We catch Snapper practically all year round with the peak of the season being November to January.
Excellent table fish, the flesh is firm & flaky with a mild fishy taste. Moderately firm flesh that cooks-up white, very pleasant eating. Enjoy skin-on or skin-off. Use whole, fillets, cutlets – grill, bake, BBQ which ever way you like it.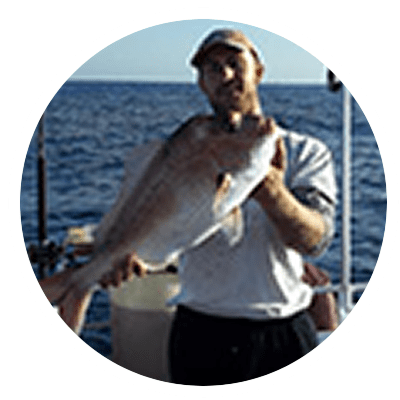 TUNA & GAME FISH
Tuna are one of the fastest swimming Pelagic fish species and belong to the same family as Bonito, Mackerel & Spanish Mackerel, more commonly found in deeper waters.
Yellowfin Tuna: Steaks or cutlets – Versatile – firm flesh- poach, fry, stir-fry, bake, braise, grill, BBQ, smoke, and pickle – holds together well in soups, curries and casseroles and cubed for kebabs.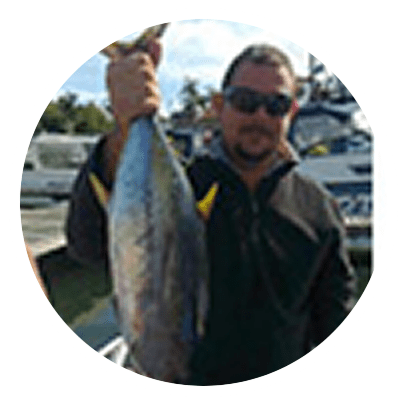 PEARL PERCH
Schools of Pearl Perch can often be found on the deeper offshore reefs. Although they only grow to a maximum of 70cm in length, they are a heavy fish and great fun to catch.
Pearl Perch Fillets: A superior restaurant quality fish with white flesh, very mild fish. Taste: sweet salty flavour – Excellent eating!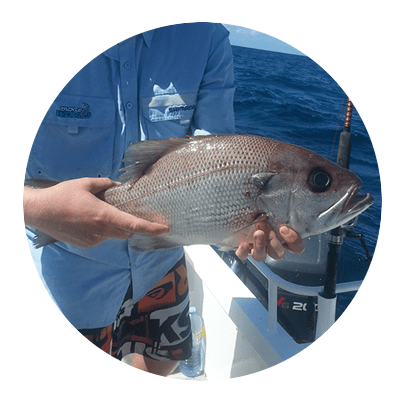 JEWFISH (MULLOWAY) & TERAGLIN
Jewfish can be found in estaurine waters and on the near shore coastal reefs. Jewfish can grow up to an amazing 2m in length which makes them a sought after catch. They are closely related to Teraglin.
Fancy some Jewfish/Mulloway for the dinner table? Try cutlets or fillets – sweet, firm white flesh with a large to medium flake. Jewfish have a very tough skin which makes them difficult to process. Moist cooking methods are recommended.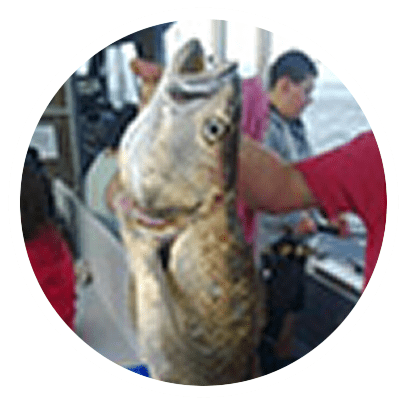 FLATHEAD
Flathead are both a favourite to fish to catch and eat. There are about 15 different Flathead species found in the southern parts of Australia. Flathead are found in the estuaries, coastal bays, and offshore water. We can guarantee to catch flathead on just about every fishing trip.
Flathead: use whole or fillets – Firm white to cream flesh with a medium density. They have a sweet flavour and are popular for deep frying, especially smaller, moister specimens.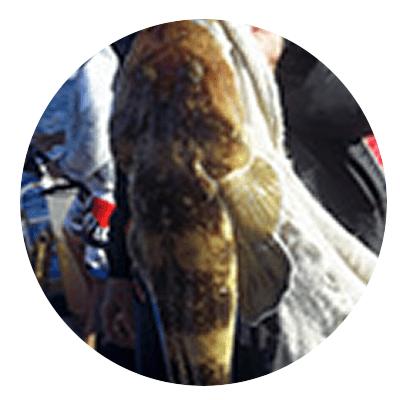 TREVALLY
Trevally are commonly caught by both lure and bait fisherman and often found around sand bar drop offs and reef structures.
They are prime sportfish and will be prepared to put up a good fight to land them.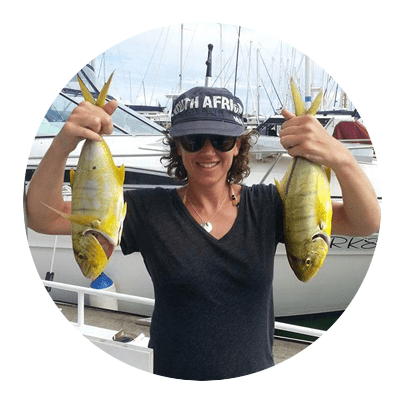 DOLPHIN FISH (Mahi Mahi)
Dolphin Fish, commonly known as Mahi Mahi, are a surface dwelling fish, and common to the Sunshine Coast region. The name 'Mahi' means 'very strong' in Hawaiian, and you'll find these a good challenge when you get one on your line.
The Dolphin Fish are distinguishable by their dazzling colours in the water, but will often change colour several times when caught and landed.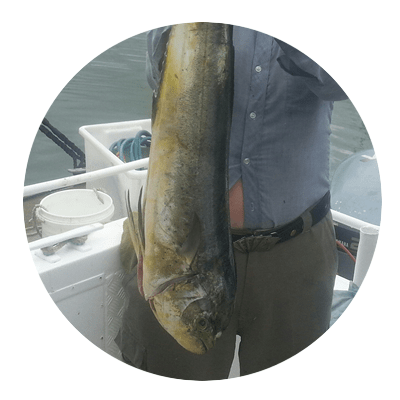 COBIA
The Cobia has an elongated fusiform body and a broad, flattened head, with smooth, small scales. They attain a maximum length of 2 metres and a maximum weight of 78kg. Usually found in tropical waters the Cobia feed on crabs and squid, and makes for popular eating due to its firm texture and excellent flavour.
DeepEnd Fishing regularly come across the Cobia on our Sunshine Coast fishing tours.
COD (Maori, Coral, Reef)
Found off the Sunshine Coast, the species of Cod are common and one of the favourite for eating with locals.
Cod are usually bottom-dwelling predators, are are easily recognisable for their bodyshape and colour.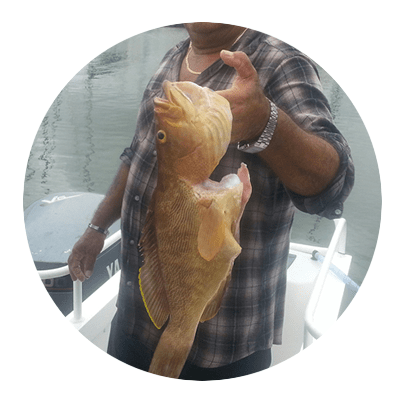 CORAL TROUT
The Coral Trout are usually found around reef areas, hence their name, as they enjoy feeding on crustaceans, particularly prawns.
They are a favourite fish of for fishermen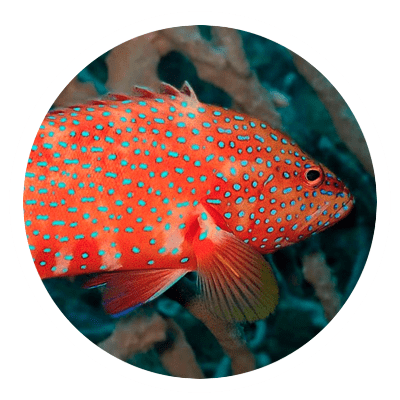 RED EMPEROR
Named after their deep red body, the Red Emperor is a deep bodied fish found offshore amongst reefs. A member of the Snapper and Sea Perch family, they are also closely related to a Mangrove Jack. They usually inhabit water depths of around 10m to 140m and feed on crustaceans as well as fish, squid, crabs and octopus.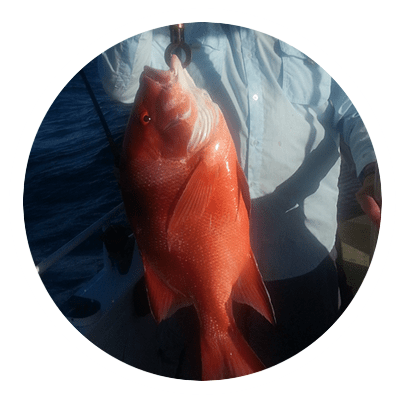 SWEETLIP & EMPEROR FAMILY
The Sweetlip (or Grass Emperor) can be found amongst seagrass beds and the Coral reefs off the Sunshine Coast, and usually grow between 30-40cm, with a maximum length of 56cm.
They can be identified by their distinct black markings in the centre of their anterior upper sides.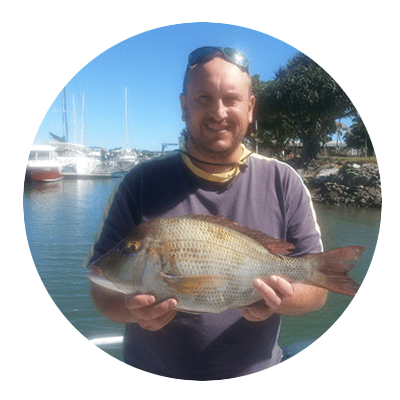 KINGFISH & AMBERJACK
The Amberjack, often known as the Kingfish, are voracious predators, feeding on squid, crustaceans and fish. They will usually be found off the Queensland Coast, around reefs, deep holes and drop-offs.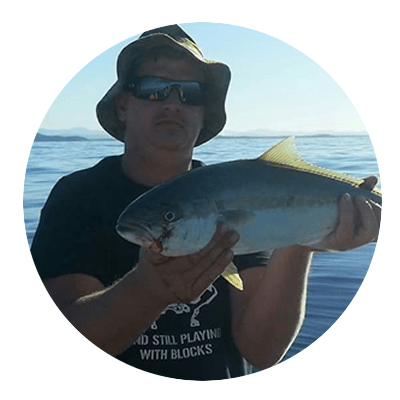 WRASSE – PARROT FISH
The Wrasse (often known as a Parrot Fish) is part of a large and diverse sub-family, with over 600 species, and easily identified by their parrot-like beak.
They are effective carnivores which feed on a wide selection of small invertebrates.
Found in the shallow tropical and subtropical waters, they dwell around coral reefs and seagrass beds.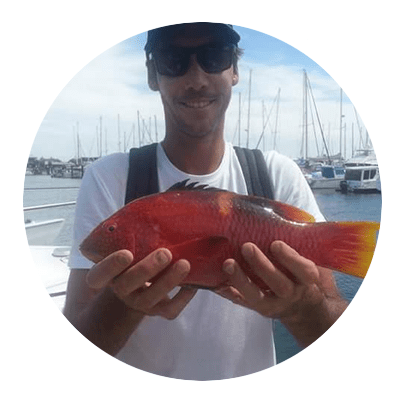 MANGROVE JACK
Commonly found around mangroves and estuarine systems, these fish dwell around mangrove roots, rock walls and fallen trees to ambush predators. They are often caught with heavy tackle by bottom-fishers, but remain a challenge to land due to their speed and closeness to the sharp reef bottoms.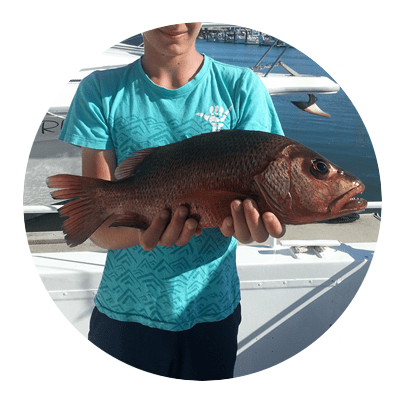 FLATHEAD
There are a number of different Flathead species, but the one most commonly caught in the Sunshine Coast waterways is the Bartailed Flathead.
Usually found on sand and mud in the shallow coastal waterways and estuaries, at a common length of 35cm and a maximum length of 50cm, these fish have the distinctive flathead (hence their name), and covered in small brown/dark flecks.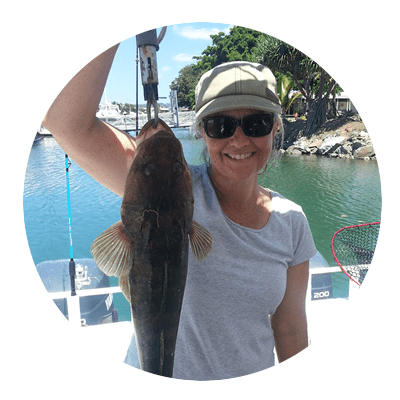 MOSES PERCH
The Moses Perch are a member of the Lutjanus family, and found in the tropical waters of Queensland and inhabit tidal rivers and estuaries, as well as coral reef and rocky foreshores.
The Moses Perch can grow up to 500mm in length, and will readily take large baits, though they are very aggressive by nature.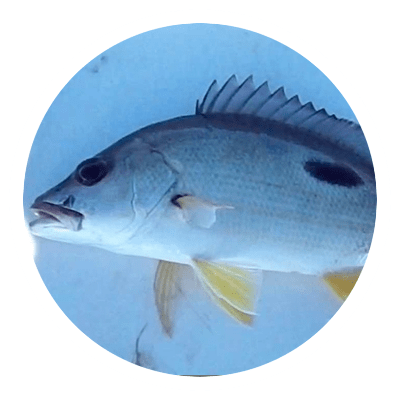 GUMMY SHARK
The Gummy Shark is a slender, grey sark with plate-like teeth for crushing its prey, and has a maximum length between 157 cm for a male and 175 cm for a female.
Found in the tropical waters off the Sunshine Coast from the surface down to a depth of 350m, their boneless fillets make them very popular for eating, particularly in the fish and chip industry.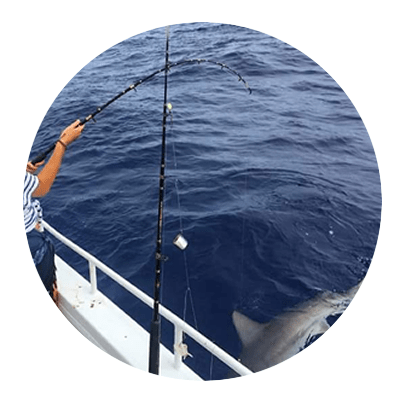 TUSKFISH
The Tusk Fish are members of the wrasse family, and often mistaken as Parrot Fish due to the large tusk-like teeth. The most common of the Tusk Fish is the Venus, found off the Sunshine Coast, which has an average size of around 1-2kg. They are most likely found around rock and coral reefs and are primarily bottom dwellers.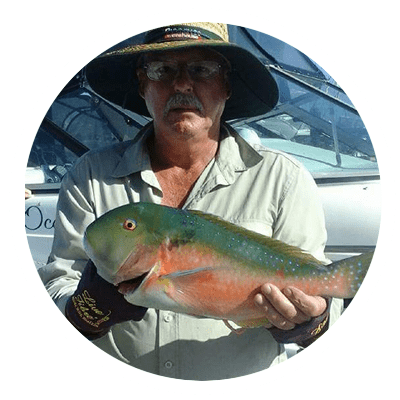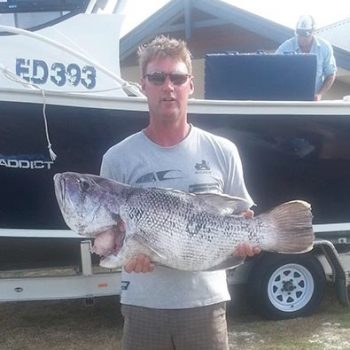 THE SKIPPER AND YOUR VESSEL:
Glen Hayden is the new owner and skipper of Deep End Fishing Charters. Glen's passion and experience with fishing is second to none and you're assured of a first-class experience on all of our tours.
Join us aboard MV Gunbarrel, 32′ Marlin Broadbill Cat powered by twin 200hp Yamaha engines to provide a fast and stable ride to the fishing grounds from estuary to deep sea.
Gunbarrel was custom designed for fishing with a spacious covered fishing deck and is fully equipped for a quality fishing experience.
Carrying a maximum of six passengers, you won't feel over crowded and can enjoy a private fishing tour with plenty of space to fish and relax.